Garbage, particularly food waste, is simply a fact of life. In fact, RTS estimates that the average American discards 325 pounds of food per year!
Garbage disposals can help address the issue of all that food waste ending up in landfills. A disposal is a small appliance that is installed under your kitchen sink. It uses a motor to grind up food scraps, which are then flushed down the drain. Garbage disposals can be a great convenience, as they can help to keep your kitchen cleaner and fresher. They can also help to reduce the amount of food waste that ends up in landfills.
Advantages of a Garbage Disposal
Over 50% of US households with a "complete kitchen" have a garbage disposal, according to Insinkerator manufacturer Emerson.
Convenience
One of the biggest benefits of a garbage disposal is convenience. It can be messy and time-consuming to throw away food scraps in the trash. With a garbage disposal, you can simply scrape them into the sink and grind them up. This is especially convenient if you cook often or if you have small children who are messy eaters.
Improved Hygiene
Garbage disposals can help to improve the hygiene of your kitchen. They can help to prevent food from rotting and attracting pests. They can also help to reduce the amount of grease and oil that builds up in your drains, which can clog them and cause problems.
Fresher Air
Garbage disposals can eliminate odors that can be caused by food scraps. This is especially beneficial if you have a small kitchen or if you cook often.
Increased Property Value
Some studies have shown that homes with garbage disposals sell for more money than homes without them. This is likely because garbage disposals are seen as a convenience and an indication that the home is well-maintained.
Environmental Benefits
Garbage disposals can also help to reduce the amount of food waste that ends up in landfills. According to the U.S. Environmental Protection Agency, food waste accounts for 22% of the material in landfills.
The benefits of proper waste disposal to the environment include less energy used to transport the garbage and maintain the landfill.
Another significant factor is that rotting food emits methane, a gas that is 25 times more potent than carbon dioxide as a greenhouse gas. Methane traps heat in the atmosphere, contributing to climate change.
Drawbacks of Garbage Disposals
There are a few minor drawbacks to garbage disposals, though most homeowners find these are outweighed by the benefits.
Garbage disposals can be noisy, especially when they are grinding up tough food scraps. This can be a nuisance for people who live in apartments or other close quarters.
If you put too much food scraps or the wrong type of food scraps in the garbage disposal, it can clog. This can be a messy and inconvenient problem to deal with.
Garbage disposals cost money to purchase and install. The initial cost of installation can range from a few hundred dollars to several thousand dollars.
Despite these drawbacks, garbage disposals can be a convenient and effective way to dispose of food scraps.
Types of Garbage Disposals
There are 2 main types of garbage disposals.
Batch feed disposals are the most common type. They require you to turn on the disposal and then add food scraps to the grind chamber one at a time. Once you have added all of the food scraps, you turn off the disposal.
Continuous feed disposals are less common, but they are becoming more popular. They allow you to add food scraps to the grind chamber continuously while the disposal is running. This can be more convenient, but it is also important to be careful not to overload the disposal.
What To Consider When Purchasing a Garbage Disposal
Since there are a number of different options available from several different manufacturers, homeowners who are adding or replacing a disposal need to consider several factors:
The horsepower of a garbage disposal determines how powerful it is. A higher horsepower means that the disposal can grind up tougher food scraps more easily. However, a higher horsepower also means that the disposal will be louder and use more electricity.
The size of the garbage disposal determines how much food scraps it can grind up at once. A larger disposal can handle more food scraps, but it will also be more expensive.
Some garbage disposals come with additional features, such as sound dampening, built-in timers, or overload protection. These features can make the disposal more convenient to use and help to extend its lifespan.
Garbage disposals can range in price from a few hundred dollars to several thousand dollars. It is important to set a budget before you start shopping so that you do not overspend.
If you are unsure of which model will best meet your needs, a reputable plumbing company can help explain your options.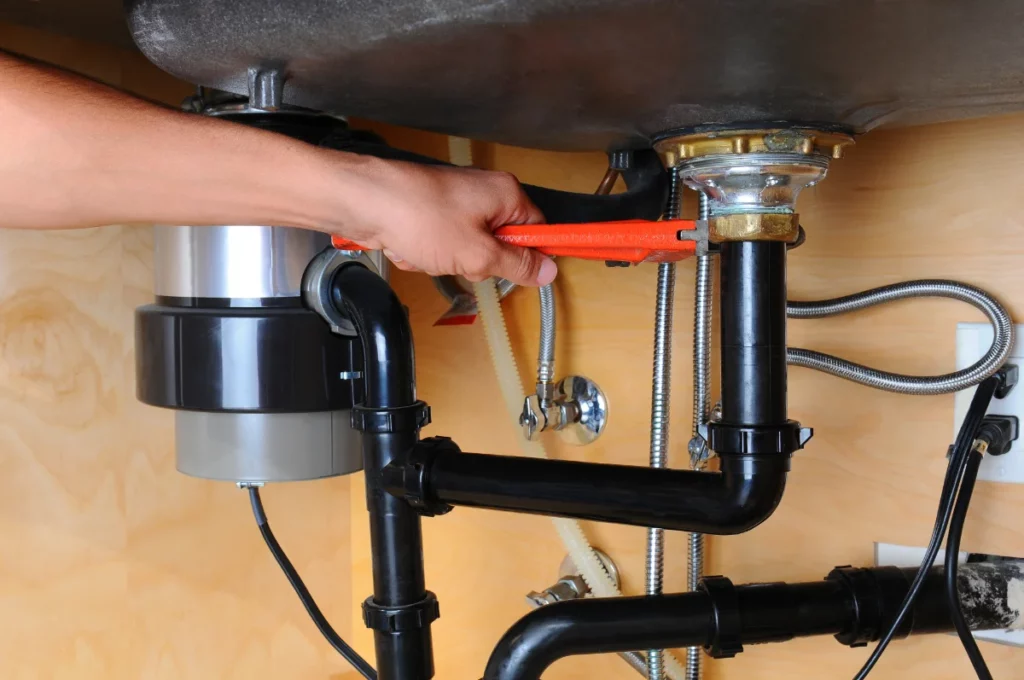 Maintaining Your Garbage Disposal
Once you have had your new garbage disposal installed, there are some important things you should know to ensure that it continues to function properly:
Only put food scraps in the garbage disposal. Do not put anything in the garbage disposal that is not food scraps, such as metal, glass, or plastic. These items can damage the disposal and cause clogs.
Grind food scraps in small batches. Do not overload the garbage disposal, as this can cause it to clog. Grind food scraps in small batches and run the disposal for short periods of time.
Run the disposal with cold water. Hot water can warp the impeller and other parts of the disposal.
Clean the garbage disposal regularly. The garbage disposal should be cleaned regularly to prevent clogs and odors. You can clean the disposal with a vinegar and baking soda solution or a commercial cleaner.
Have the garbage disposal serviced regularly. A garbage disposal should be serviced by a plumber every few years to ensure that it is working properly. This will help to prevent problems and extend the lifespan of the disposal.
Here are some additional tips to keep your garbage disposal running smoothly:
Avoid putting citrus peels in the disposal. The citric acid in citrus peels can corrode the metal parts of the disposal.
Do not put grease or oil in the disposal. Grease and oil can solidify and clog the disposal.
Do not put eggshells in the disposal. Eggshells can scratch the impeller and other parts of the disposal.
Do not put small bones in the disposal. Small bones can get caught in the impeller and cause a clog.
By following these tips, you can help to ensure that your garbage disposal continues to function properly for many years to come.
Stronghold Plumbing In & Near Lakeland
If you are considering installing a garbage disposal or are in need of any other plumbing services, Stronghold Plumbing is here to help. Our team of plumbers in and near Lakeland have the knowledge and experience to help you decide exactly what you need and to get the job done right.
In fact, any time you need plumbing service, whether it's an emergency plumber or a free plumbing estimate, don't just search for plumbers near me. Contact the Florida plumbing leader – Stronghold Plumbing.