One of the great aspects of older homes is their unique charm and character. Showcasing architectural details and craftsmanship that can be difficult to find in newer construction homes, older homes are the pride and joy of many Floridians.
However, if you are the owner of an older home, it's essential to be aware of the potential plumbing issues that can arise. While not every older home will experience plumbing problems, it's important to be aware that the likelihood of encountering issues increases as the home – and its plumbing system – ages.
Common Plumbing Problems in Older Homes
Older homes often experience plumbing problems due to various factors, including aging infrastructure, outdated materials, wear and tear over time, and changes in plumbing standards and practices.
The passage of time can lead to pipe corrosion, leaks, sediment accumulation, and other issues that affect the overall functionality of the plumbing system. Additionally, older homes may not have undergone regular maintenance or updates, further exacerbating plumbing problems.
Here are some of the more common plumbing problems that are found in older homes:
Leaky Pipes
Pipes in older homes are often made of galvanized steel or cast iron, both of which are prone to corrosion and rust. The deterioration of these pipes over time can lead to water damage, mold growth, and high water bills.
Upgrading to modern materials like copper or PVC pipes can improve water flow and reduce the risk of leaks.
Low Water Pressure
Over time, mineral deposits and sediment can accumulate in the pipes of older homes. This can affect the efficiency of your plumbing fixtures and lead to reduced water pressure.
If you are experiencing low water pressure, it's important to identify the underlying cause. Depending on the underlying issue, a plumber can flush out your pipes or install a water pressure booster system to improve water flow. They may also recommend installing aerators on faucets and showerheads to enhance water pressure while conserving water.
Clogged Drains
Over time, debris, grease, and other substances can accumulate in the drains, leading to clogs. This can result in slow-draining sinks, tubs, and toilets.
To address this issue, professional plumbers can use techniques like drain snaking or hydro jetting to remove stubborn clogs. Additionally, they may suggest preventive measures such as regular drain cleaning and the use of drain screens to prevent debris from entering the pipes.
Outdated Fixtures
Older homes may still have outdated fixtures like faucets, showerheads, and toilets, which may not be water-efficient or meet current standards.
Updating your plumbing system often involves replacing these fixtures. Similarly, replacing outdated fixtures with water-efficient models can conserve water and save you money on utility bills.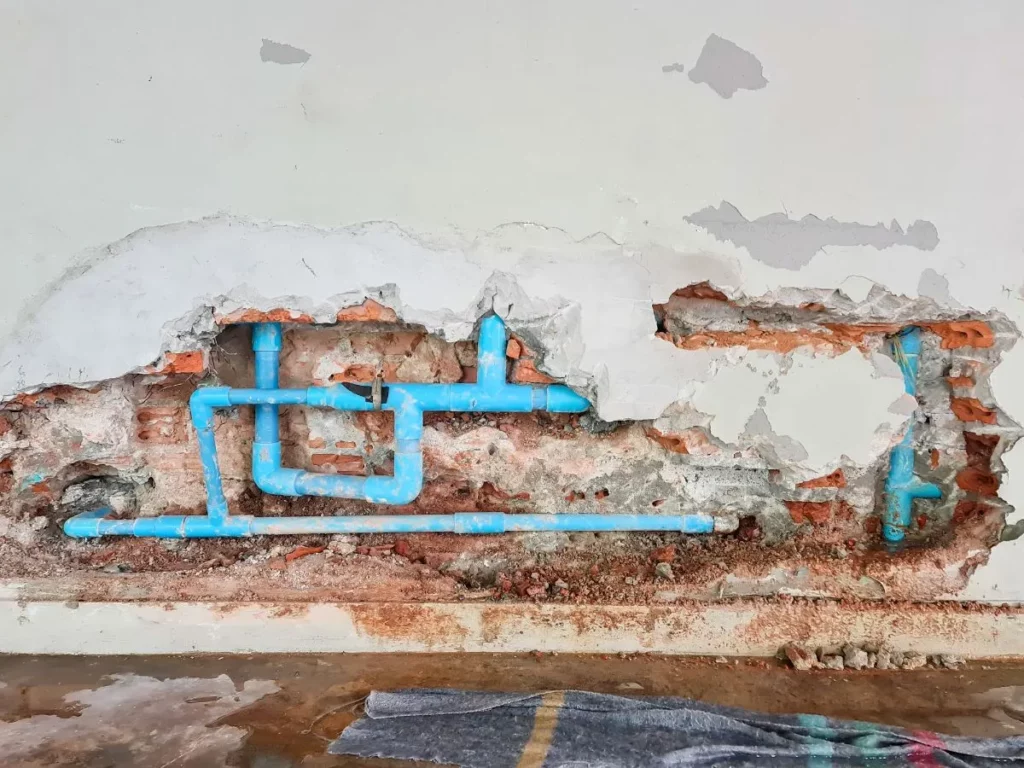 Does My Plumbing Need Repiping or Repairs?
Repiping is the process of replacing the existing plumbing pipes throughout a home with new ones. It involves removing the old, deteriorating pipes and installing new pipes made of modern materials like copper, PEX, or PVC. Repiping is often necessary in older homes when the existing plumbing system is outdated, damaged, or experiencing frequent issues that cannot be effectively resolved through repairs.
Because it involves not only new materials but also a great deal of work, repiping can be an expensive project, and homeowners are often tempted to go with repairs instead. 
Deciding between repiping and repair depends on the specific circumstances of your plumbing system. In some cases, repairs may be sufficient to address isolated issues or minor damages.
However, there are situations where repiping is a more practical and cost-effective long-term solution. Here are some factors to consider when making the decision:
Extent of Damage
If the plumbing system has extensive damage, such as widespread leaks, corrosion throughout the pipes, or frequent failures in multiple areas, repiping is often the better choice. Repairing individual sections may become a recurring expensive and challenging process, whereas repiping provides a comprehensive, long-lasting solution.
Age and Material of Existing Pipes
Older homes with outdated pipes made of materials like galvanized steel or cast iron are more prone to corrosion and deterioration. If your plumbing system consists of these materials and is nearing or past its expected lifespan, repiping is recommended to ensure a reliable and efficient system.
Cost Considerations
While repiping may involve a higher upfront cost compared to repairs, it can be a more cost-effective option in the long run. Constant repairs and ongoing maintenance expenses for an aging plumbing system can add up over time. Repiping eliminates these recurring costs and provides a more reliable plumbing system, potentially saving you money in the long term.
Future Plans
Consider your long-term plans for the property. If you intend to stay in the home for many years, investing in repiping ensures a reliable plumbing system for your continued comfort and convenience. On the other hand, if you plan to sell the property soon, repairs may be a more reasonable short-term solution.
Professional Opinion
Consulting with professional plumbers is crucial in making an informed decision. They can assess the condition of your plumbing system, identify the root causes of problems, and provide expert advice on whether repairs or repiping is the most suitable option for your specific situation.
Preventative Maintenance
Once you have updated your plumbing system, it is crucial to establish a regular maintenance routine to ensure its long-term functionality. Regular plumbing inspections, leak detection, and preventive maintenance can help identify potential issues before they escalate into costly repairs. Professional plumbers can provide guidance on maintenance tasks specific to your updated plumbing system.
Stronghold Plumbing In & Near Lakeland
When you need the best plumbers in and near Lakeland, don't just do an online search for "plumbers near me." Contact Stronghold Plumbing & Septic.
Our team of experienced professionals is standing by to help, whether you just want a free plumbing estimate or you are in need of an emergency plumber. We are truly invested in helping our neighbors with all their plumbing and septic problems. With transparent pricing, fast turnaround, and industry-leading warranties, night or day, Stronghold Plumbing & Septic is just a phone call away.