Your home's water heater is a critical component of your home, providing hot water for doing dishes, laundry, and bathing. Unfortunately, like all household appliances, water heaters eventually stop functioning – either partially or altogether.
Understanding the causes of water heater failure can help you identify issues early on and take the necessary steps to prevent further damage or schedule timely repairs.
Hot Water Usage Statistics
According to the Environmental Protection Agency (EPA), the average US home uses about 63 gallons of hot water daily. This number can vary depending on the size of the household, the number of people who take hot showers, and the efficiency of the water heater.
Here is a breakdown of how much hot water is used for different household activities:
Bathing and showering: 40-50%
Laundry: 20-30%
Dishwashing: 10-20%
Cooking: 5-10%
Other: 5-10%
The amount of hot water used for bathing and showering is the largest single use. The average person uses about 2 gallons of hot water per minute in the shower. This means that a 10-minute shower will use about 20 gallons of hot water.
The amount of hot water used for laundry and dishwashing also varies depending on the efficiency of the appliances. A newer, more efficient washing machine and dishwasher will use less hot water than older appliances.
The amount of hot water used for cooking is typically less than 10% of the total hot water use. This is because most cooking does not require hot water. However, some appliances, such as coffee makers and dishwashers, do use hot water.
The amount of hot water used for other activities, such as cleaning and bathing pets, is typically less than 10% of the total hot water use.
How Do Water Heaters Work?
To understand the reasons for water heater failure, it's important to know how water heaters operate. There are two main types of water heaters: traditional tank-based heaters and tankless heaters.
Traditional water heaters consist of a steel tank with a glass lining. The tank is filled with water, which is then heated using either gas or electricity. Over time, the steel tank may start to rust due to the constant exposure to water, leading to corrosion and eventual failure.
On the other hand, tankless water heaters heat water directly as it flows through the unit without the need for a storage tank. These systems can be more energy-efficient and have a longer lifespan compared to traditional heaters. However, they can still experience issues such as mineral buildup or electrical problems.
Water Heater Power Sources
Water heaters can be powered by various fuel sources, offering homeowners options based on availability and cost. The choice of fuel source can impact the operating costs, efficiency, and even the size of the water heater.
Electric water heaters use large coils to heat the water, making them a popular choice where electricity is readily available. While they are less efficient than other fuel sources, they are often less expensive upfront and do not require venting.
Natural gas water heaters utilize a gas burner at the bottom of the tank and a venting chimney to release byproducts. They are more efficient to operate than electric heaters but may have higher initial costs.
Propane water heaters work similarly to natural gas models but use propane as the fuel source. They are commonly used in areas where natural gas is unavailable.
Oil water heaters mix oil with air using a power burner to create a vapor mist, which is then ignited by an electric spark. They are used when neither natural gas nor propane is accessible.
Solar water heaters harness the heat from the sun to warm the water. They can significantly reduce water heating bills and are ideal for areas with abundant sunshine.
Heat pump water heaters extract heat from the air and use electricity to transfer it to the water. They are highly efficient but require a specific temperature range for optimal operation.
When selecting a water heater, it's important to consider the fuel type available in your area, its cost, and the efficiency of different options. Factors such as household size, water demand, and space availability should also be taken into account.
Water Heater Failure Reasons
There are a number of factors that can contribute to water heater failure.
Corrosion
The steel tank in traditional water heaters is susceptible to corrosion over time, especially when the glass lining wears down. Rust and corrosion weaken the tank, leading to leaks and eventual failure.
Sediment Buildup
Both traditional and tankless water heaters can accumulate sediment and mineral deposits over time. This buildup reduces efficiency and can cause damage to heating elements and other components.
Heating Element Issues
In electric water heaters, heating elements may burn out or malfunction, resulting in insufficient or no hot water. These elements can be replaced to restore proper functionality.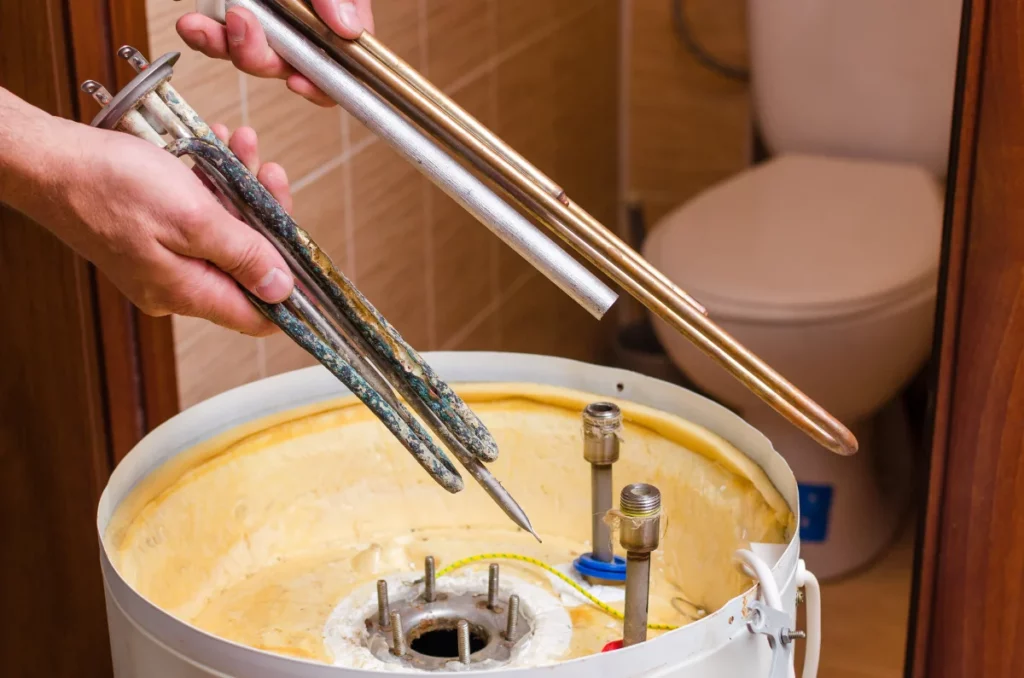 Water Heater Failure Signs
Recognizing the signs of water heater damage can help you address issues before they worsen. Look out for the following signs:
If your water heater is struggling to provide enough hot water for your household's needs, it may indicate a problem such as a failing heating element or sediment buildup.
If you notice rusty or discolored water when using hot water taps, it could be a sign of corrosion inside the water heater tank.
Unusual noises like popping, banging, or rumbling coming from the water heater may indicate sediment buildup or other issues that require attention.
Leakage is a clear sign of a problem with the water heater. It could be due to corrosion, loose connections, or a failing pressure relief valve.
Water Heater Maintenance Tips
Proper maintenance can extend the life of your hot water heater and minimize the risk of failure. Here are some maintenance tips to keep in mind:
Regular Flushing
Flushing the tank periodically removes sediment and mineral buildup, improving the efficiency and longevity of the water heater.
Anode Rod Replacement
The anode rod helps protect the tank from corrosion. It should be checked and replaced every 3 to 5 years to prevent internal tank damage.
Temperature and Pressure Relief Valve Inspection
The valve should be tested annually to ensure it's functioning correctly and releasing excess pressure as needed.
What To Do If Your Water Heater Fails
In the event of water heater failure, it's important to take prompt action. Here's what you should do:
Turn off the power or gas supply to the water heater.
Shut off the water supply to prevent further damage or leaks.
Contact a professional water heater repair service to diagnose and fix the issue. They will have the expertise and tools to handle repairs or recommend a replacement if necessary.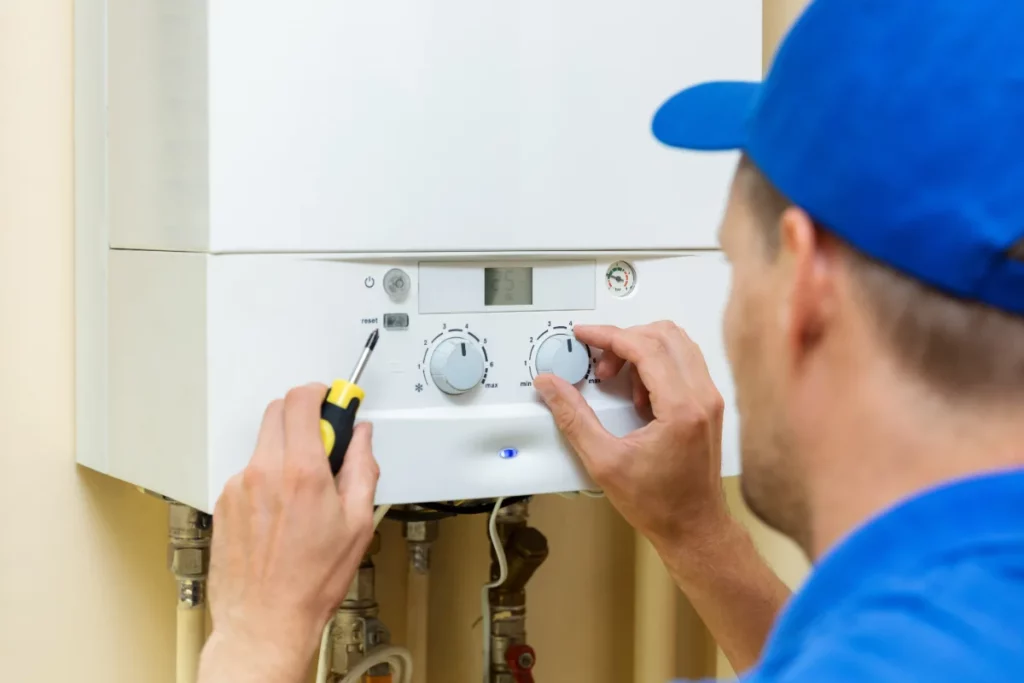 The Best Plumbers In and Near Lakeland
Are you in need of professional plumber? Look no further than Stronghold Plumbing & Septic in and near Lakeland. We are the go-to experts for water heater services, including water heater installation and water heater repairs, as well as a wide range of other plumbing services. 
Whether you're facing issues with a malfunctioning water heater or require assistance with Florida plumbing installations or repairs, Stronghold Plumbing is here to provide top-notch service.
Contact us today to ask about our water heater services estimates.